It is only a few years since I got back into cycling after a ten year absence from the bike. But even in this short time the explosion in popularity and participation of cycling has been huge. In the space of just a few years, cycling has gone from relative obscurity, to a mainstream, fashionable, high participation, big budget industry.
But isn't just the MAMILs or MAWILs, and the lightweight carbon bling bikes that are capturing the imagination. The market for cyclists wanting comfortable, hard wearing outfits that are both suitable for a cycle commute, and a day in the office is growing by the day. Another huge growth area looks to be the recent trend for all things 'vintage' or 'retro'. Events like the L'Eroica Brittannia and the Tour de France in the Peak District this summer are set to boost cycling numbers further, as well as the local economy.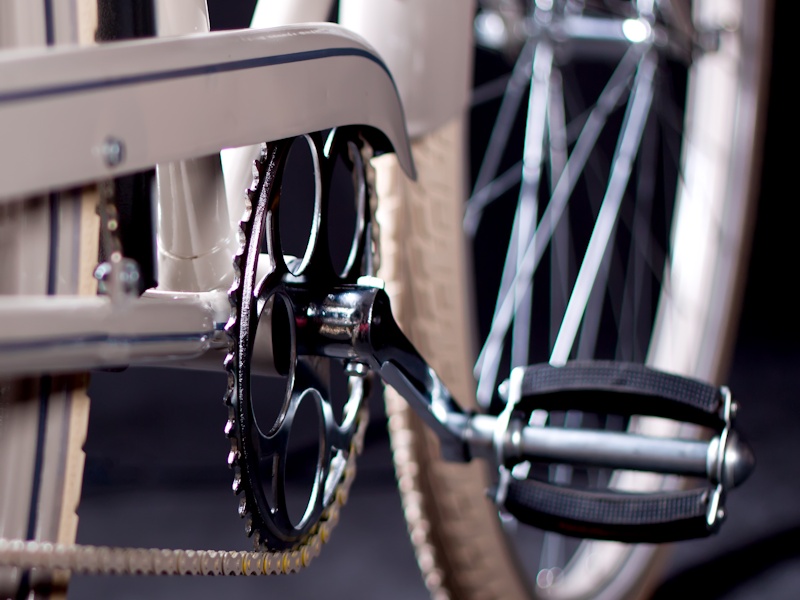 Cycling, and all things bike, are gradually infiltrating more mainstream fashion, with bikes used as marketing props for photo shoots and window displays, in company logos, adverts, and ridden around the city by supermodels as fashion accessories.
I'm certainly no fashion expert, but I am a shopaholic who rides bikes, a lot. So here are a few practical fashion tips that may help along the way.
Wide leg trousers without a chain protector are not a good look after the first mile. Try to choose narrow leg trousers.
Vintage bikes can either be like cycling a Rolls Royce, or a clapped out old car. Just because a bike is 40 years old does not mean it will be an enjoyable experience. Choose carefully, and ensure it is well maintained.
Try things on if possible, what may look good on a staged photo shoot on the internet, may make you feel really stupid, this especially applies to certain helmets if you wear one.
Riding any distance at all – you can't feel fashionable, if you aren't comfortable on the bike.
It you are riding in the rain, and want to arrive at your destination looking elegant, then mudguards are essential.
Fashionable on a bike also has to be hard wearing, look out for water and stain resistant materials.
Don't try and carry anything with your hands whilst cycling, baskets and pannier racks and bags are useful for carrying essentials and shopping, and even more useful, if they can be easily removed when you are off the bike.
If you think your bike looks great, so will a thief, make sure you get a good lock.
Want some more ideas and inspiration? Then try here: