I can't help those of you who have never ridden a bike, but I can tell you that about 5 years ago, after a break of 10 years off the bike, I discovered that for me, the saying was true – you never forget how to ride a bike. Here are a few memories, and tips from what I remember of that time.
My first ride back in the saddle was in the Peak District, along the start of the High Peak Trail, I chose the trail as it was quiet and far away from any traffic, starting from the car park at Hurdlow. It was also a good place to test the legs and balance as the route is mostly a flat one. For the first few rides do not plan an overly ambitious route, a  very short circular loop if you can find one is ideal, because you can do repeats of this to test the legs and build up fitness. If you do quickly tire, you can finish safe in the knowledge you are not miles away from your starting point, be it your home or car.
My overall memories of that first ride, despite some of my warnings below, were hugely positive. I have caught the cycling bug ever since, and remember wondering why I had left it so long to get back on the bike, the feeling of fresh air in your lungs, freedom to travel, the wind in you hair, and the spectacular Peak District views.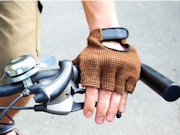 The second thing I remember is that your body will hurt, particularly your backside. This doesn't necessarily mean that your saddle is unsuitable, at this stage any saddle you use will hurt. Give it plenty of time before you decide your saddle is not working for you. Your legs will also hurt, muscles will be asked to perform tasks they are not used to, most of the pain will be experienced after the event, and not during, bear this in mind and build up slowly. It does get easier though, cycling is actually very low impact on your body, and your muscles will adapt quite quickly if you persevere.
You will get a puncture at some point, take equipment to deal with this, and the knowledge for how to fix it, or at least make sure you are with somebody else that does. If you don't know how to deal with a puncture the best place to learn and practice how to is at home, not on your own in middle of nowhere in the freezing cold.
Try and make your bike comfortable. Another mistake I made which is commonly done is having your saddle height set too low. By all means if you are very wobbly and feel the need to be able to put your feet on the floor when you are sat on the saddle keep it low at first, but it makes pedalling a lot easier to have it higher than this, there are many articles on the web for different methods of setting your saddle height, some cyclists opt for a bike fit to get the bike setup to suit them.
Remember it gets easier, there comes a stage when those small hills that at first seemed like mountains don't even register on the scale of hard work. Some cyclists will always avoid hills but many go on to specifically target climbs for the challenge. Me, I suspect I'm like many cyclists and like a mixture of easy rides sometimes, and challenging climbs at other times.