Grade: Easy. Quieter than the Monsal Trail, the Manifold Trail rivals the Monsal Trail for scenery, and interesting features to see.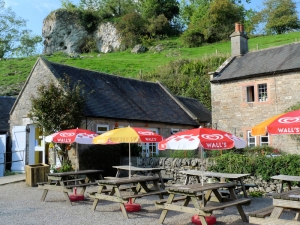 This route starts at its northern end at the Hulme End Vistor Centre, (postcode SK17 0EX) where there are refreshments and information about the trail located in the Old Railway Station buildings. There are car parking facilities here, and it is just 1.5 miles from Hartington Village in the heart of the Peak District. The surface of this trail is mostly very good, with just short sections of uneven surface where tree routes have caused damage to the smooth surface.
The path follows the route of the old Manifold Valley Light Railway from Hulme to Waterhouses, which operated for passengers and goods from 1904 until closing in 1934. Only a few years later, in 1937, the route was re-opened in its current format – a walking/cycling path. The 8.25 mile route runs alongside the River Manifold, which is a tributary of the River Dove. From Spring to Autumn large parts of the river bed in the valley are dry.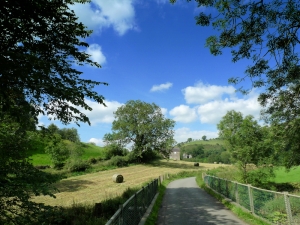 The Valley is a popular choice for visitors to the Peak District offering easy access and good flat trails for the cyclist, combining both natural and man-made highlights such as Wetton Mill owned by the National Trust, and the spectacular Thors Cave overlooking the Valley.
Wetton Mill is a good stopping point for visitors wishing to enjoy the tea room there, and there are often refreshment vans at some of the car parks along the route, as well as the Tea Junction tea room at Hulme End. If you wish to start from the other end of the trail at Waterhouses, Staffordshire, (postcode ST10 3EG) there is a car park and refreshments here, as well as cycle hire throughout the summer months. For further details see the Visit Peak District Website by clicking here.