Grade: Easy. Now that the old Railway tunnels are fully open along this route, it is surely one of the most scenic cycle tracks in England, with some of the best views the Peak District has to offer.
The 8.5 mile trail starting from the north, is located just to the south of Buxton at Blackwell Mill, (postcode SK17 9TE) where there is a cafe and cycle hire hut, (link to external website). For those wishing to visit by public transport there are buses that run along the A6 which is close to the trail at a number of points from Derby, Manchester and Nottingham. The other end of the trail starts from Bakewell, from the old railway station, where there is a small car park.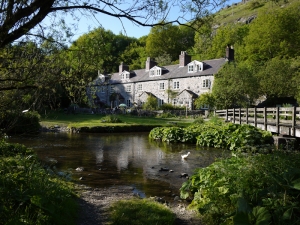 The Monsal Trail provides a glimpse of the history between man and nature in the Peak District, including Lime Kilns and the magnificent Monsal Head viaduct. The trail follows the route of the old Midland Railway which closed for the last time in 1968, and a number of the old stations remain. Hassop Station (link to external Hassop Station website) is worth a stop on your travels, and is now a cafe, book store and cycle hire centre with car parking.
The tunnels are the biggest crowd puller to the trail, especially popular with children, as six in total feature along the route. Built to last when the railway was constructed, it is always strange on a hot day to feel the temperature drop as you travel through the longer tunnels.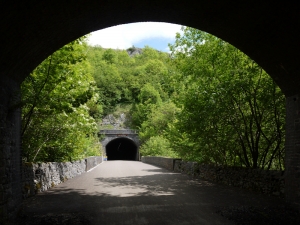 Other points of interest to keep an eye out for, are the old mills alongside the trail, the imposing Cressbrook Mill and Litton Mill, and the wonderful views as the river Wye cuts through the valley. The trail is mostly level, with a gradual slope downwards from the north, to Bakewell in the south. The surface is a smooth sandy/crushed stone type finish, hence it can get a little dusty in dry weather, and be prepared to rinse down a clogged up bike in very wet conditions.
The one downside to the Monsal Trail is that on a hot summer weekend it can get incredibly busy, in some respects it is a victim of its own success. Those wishing to get away from it all, and find a quiet spot in the Peak District may well want to look elsewhere on these days, and visit at a quieter time.
However, if you just want to take it easy, and soak up the scenery, then there are not many better places in the Peak District to do so in such a short bike ride.
To view a short video of the Monsal Trail, see the music video here: http://www.peakdistrictcycling.co.uk/monsal-trail-route-video/