What you wear when you are out and about on the bike can make the difference between an enjoyable ride, or feeling that you have spent the last two hours in a torture chamber. This article gives you a few tips, (learnt the hard way) on what to wear when the days get colder.

What is best to wear depends on the temperature, what sort of cycling you are doing, and the likelihood of rain or snow. It is important to keep an eye on the weather forecast, but be prepared to adapt if the situation changes, as it often does in the Peak District. It really is true that there is no such thing as wrong weather, only incorrect clothing, and there is no reason why you cannot keep enjoying cycling throughout the winter if you dress appropriately.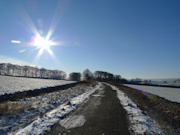 My first piece of advice  for keeping warm, is to forget worrying about what you look like out on the bike. Keeping warm and comfortable, and looking trendy are not really compatible, forget about winning fashion contests, and concentrate on keeping warm.
Secondly, I have found that very little equipment you buy is quite as waterproof as advertised, what is vitally important though is keeping warm, even if you get soaked wet, if you get this mastered you will be fine.
Your extremities, fingers and toes, are often the first to feel the chill on cold days. Gloves are a winter essential, but be careful if you get anything overly bulky as it can make if difficult to operate the brakes and gears. Keeping your feet warm is a challenge on the coldest days, but overshoes can make a huge difference. I have had great success with a pair of liner socks and a thicker pair over the top, but be careful, as too tight in your shoes and it can affect your circulation.
A hat is another great way of keeping warm, I recommend getting something that covers your ears as well, as stinging cold ears are never a pleasant experience. Combine this with a buff style scarf around the neck that can be pulled across the face in very cold conditions. You can combine the two with a balaclava, (remember to take it off before visiting a bank), but I find it less flexible than a hat and a neck warmer.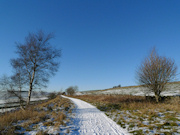 Ultimately, the right winter clothing is going to vary from person to person, some people feel the cold a lot more than others, but what I have found to work is making use of layers to stay warm and keep the wind and rain out. I'm a fan of Merino wool base layers next to the skin, they are comfortable and provide good wicking, but they are expensive. What to wear on top of this depends on the weather, keeping the core warm gives you a good head-start on staying warm overall. Windproof products are highly recommended, as keeping the wind out can make a huge difference to your comfort. For the outer layer a thin rain resistant jacket is always useful, especially one that can quickly be accessed, or stowed away in a pocket or bag. A lot of these can result in a 'boil in the bag' scenario if left on though.
In all but the coldest weather you will soon get warm once you get going on the bike, but in the winter you can quickly get cold if you stop, or have a mechanical, and it is worth considering this when choosing your outfit.
Finally, make sure you get out of your cycling gear as soon as possible after finishing your ride, or you will very quickly begin to chill.